Do you have any type of infection resulting from bacteria, virus, or fungus?
This energy healing service helps to clear up symptoms of any infection such as the flu, colds, and any illness that is caused by virus, bacteria, and fungi – any blood-borne pathogens. Significant results can be had within a couple of hours.
This service also includes energy healing of nerve pain from decayed teeth.
Purchase for yourself or your loved ones.
How do these sessions work? What's actually going on?
To rid the body of the symptoms of any infection on the body I just do energy healing with meditation to make the changes. So I go into a sort of meditative state with my intention in mind. It's the same process I use whenever I do the Emotional Freedom (not EFT) sessions. I use the intention to rid the body of the disease as well as clear up any symptoms.
What I believe happens is this – when I do the energy healing it sort of disables the disease to the point that basically goes into a dormant or death state. This state causes the symptoms to disappear. This is the best way I can explain it. For blood borne and more widespread viruses such as herpes, hepatitis, etc… it may take quite a while to really tackle the issue.
I've had many great successes with infections and I would love to help you as well. I helped a friend get over the flu recently. By the next day he stated "the infection is no longer active." He had been dealing with this virus for a few days before I did energy healing for him so he was already having all the symptoms that usually accompany a flu or cold. After the infection (the germs) were killed off he still needed time to get rid of all the leftover symptoms. If I had done the energy healing for him early, before the virus got too bad he wouldn't have had all the symptoms and he would have been feeling totally better within a few hours or by the next day.
If you happen to catch a cold or flu I urge you not to wait so that you can begin feeling better the same day. You will also lessen the amount of symptoms. If I'm able to begin the sessions right away you will find that you have little to no symptoms.
View these articles for stories of how I helped reduce symptoms totally of bacterial and viral infections:
Stopped Tooth Pain Instantly – Killed Bacteria Instantly (where I reduced pains and symptoms from the bacteria that feed on the pulp of the tooth as well as an abscess caused by the decayed tooth)
Reduced the Symptoms of the Flu and Cold Virus of a Friend and My Mother
I would like to note that there are lots of things that I have not been able to test fully yet including Yeast-type Candida infections such as thrush, genital yeast infections in both woman and men, and other of these types of fungal infections. Since they are considered fungal infections I'm pretty sure that energy healing will have a beneficial effect.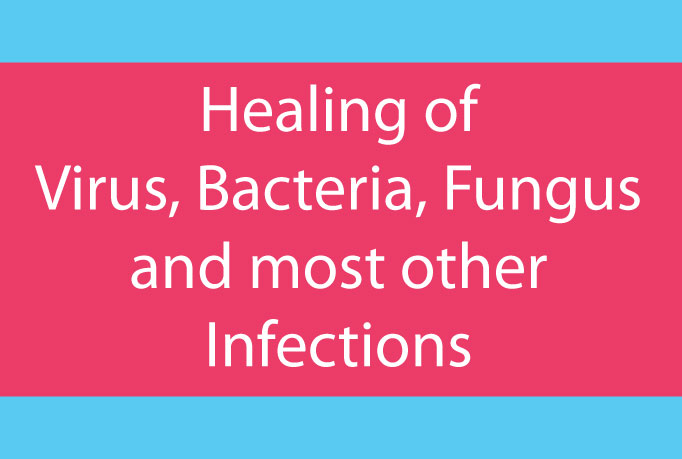 Other Information
Tooth Pain: If you are having tooth pain these energy healing sessions can help to reduce the irritation of the bacteria around the tooth. The bacteria eats at the nerve causing terrible pain and swelling. My energy healing can, usually totally, reduce nerve and pulp pain in and around the tooth and in the gums. If you still have pain after I do the first few energy healing sessions the pain is most likely caused by anything that touches the exposed nerve or it can be caused by an abscess beneath the tooth.
Flu or Cold: If you are dealing with the flu or cold virus and you are already experiencing symptoms soon after the first energy healing session you will usually find that you are feeling much better. Once the virus is killed off your immune system will strengthen quickly and symptoms will begin to disappear. If you are dealing with phlegm in the lungs please note that it may take several days to cough up everything even when the virus has already been killed off.
Bacteria and Virus: Depending on the severity of the bacterial, viral or fungal infection you may need more than one 5 day session.
Herpes and Hepatitis: I have customers who purchase once every month to help battle Herpes, another who purchases monthly sessions for Hepatitis for herself and Herpes for a friend. This virus is a tough one so it has been an ongoing fight but it seems to be working very well. In the second month that I did sessions for one person he said he had a breakout so minor that he wasn't sure if it was even a breakout. After that he stopped having breakouts altogether.
For the lady with Hepatitis, a couple months after I began energy healing for her she said she hadn't had any symptoms since I started the sessions.
Infection Healing Reviews

AWESOME … HAS TO BE THE BEST ON FIVERR!!!! HOW I HADN'T FOUND HER IDK . Amazing I've NEVER has a Sinus infection get better so quickly I praise her and and BEYOND Thankful to have been led to her. THANKS THE HIGHER SPIRIT! The BEST!!!

~ anewkat

Thank you Universal Signs! I asked for energy work on my Mom, and after months of being run down, she went out for a haircut, felt almost no pain, and was able to be social with the family the entire day. I'd recommend and I will use Universal Signs again.

~ ummyyummychef

Thank you again for your service, you go all out to get it done platclar

~ platclar

Excellent to work with, genuine at heart & pleased with the results.

~ shahjahan

Wonderful. Thank you b

~ fabulousfabio
Tooth Pain Reviews

Thank you for your healing sessions, what you do is amazing. The pain is subsiding. Will back again.
~ latiff

I am a repeat customer as I've been dealing with some painful dental issues on the left side of my mouth. I have not had a chance to get to the dentist. After Melanie performs the healing on the affected area the pain substantially decreased. It is AMAZING. Give it a try!
~ phmassa

I ordered this Mon or Tues when my pain and abscess returned to me a month later. Right away I knew who to go to for healing! With a day or so the swelling is down and pain has subsided. To say amazing would be an understatement. Repeat buyer for a reason!!
~ binarylove

She is amazing! Swelling going down already and I have just gone throughout my day. Usually, I try all these quirky remedies, such as garlic, salt rinse w/ warm water, ginger tea, etc. Although, with Melanie working on my teeth with her miraculous healing energies I just go thru my day and VOILA!
~ binarylove

Amazing work! In 2 days I have already noticed a drastic reduction in pain with the abscess! I highly recommend this gig!
~ binarylove

Another wonderful healing experience from Melanie. I have an abcessed tooth that was causing extreme pain. After Melanie worked on it the pain has significantly decreased. I am almost pain free & feeling so much better. She offered to work on it a bit more & now I am completely pain free. AMAZING!
~ phmassa

Thank you very much for the great service The tooth pain significantly reduced in a short period of time. Many thanks
~ayhar2013

Amazing healer! I had throbbing tooth pain & couldn't get to the dentist for a few days. Melanie was quick to reply within minutes of placing the order. She performed the healing & asked for feedback. It took a little time but the pain went away. I am pain free for 2 days now. No joke this is real.
~ phmassa
Purchase Today!
Purchase Securely with PayPal or Stripe for yourself or for anyone else who needs help. You can purchase for your pets as well.
Stripe is a Payment Processor similar to PayPal. You can use your credit or debit card. View more info about Stripe.
Bacteria, Virus, Fungus – Infection Energy Healing Services
Payment Options:
5 Days of Sessions, Twice Daily for $5
– I will work on the infection twice per day for 5 days.
12 Days of Sessions, Twice Daily for $10
– I will work on the infection twice per day for 12 days.
1 Month of Sessions, Twice Daily for $25
– I will work on the infection twice per day for 1 Month.
5 Days of Sessions, 4 Times Daily for $15
– I will work on the infection four times per day for 5 days.
12 Days of Sessions, 4 Times Daily for $20
– I will work on the infection four times per day for 12 days.
1 Month of Sessions, 4 Times Daily for $35
– I will work on the infection four times per day for 1 Month.
Symptoms usually diminish greatly within a few hours of me starting energy healing on the infection but it may take several days before you see significant results. More serious issues will take longer and you should consider choosing longer and more aggressive (such as 4 times daily) sessions for best results.
For infections such as flu, cold or fungus your immune system will need some time to begin to get rid of any current symptoms. You will begin feeling better usually the same day but please give your body a few days to possibly a week to clean up the aftermath of symptoms. For fungus on the skin or in the nails please be aware that it may take a number weeks for symptoms to fully clear up.